As anyone who has visited my previous entries recently can tell I was away on holidays in Hawaii and for me this trip was a great trip down memory lane, tracing my roots back to where I first discovered I wanted to pick up photography. For me it was really interesting to take my wife, who has just recently discovered photography herself, and parallel my trip nine years ago and watch her go through the same motions I did when I first picked up the camera. But let's take a moment to go back in time to the point that lead up to the events I mentioned here.
It was 2004 and I had just finished up final exams in my first year of university. It was a tough time, being fresh out of highschool and having jumped head first into a Bachelor of Science program took a lot out of me. I really enjoyed biology in highschool and thought that seemed like a logical place to start off in university, but I was quick to discover (like most people fresh from highschool do) that university is not highschool. Suddenly the subject which I thoroughly loved just a year ago became something I didn't enjoy at all and it began to take it's toll on me. By final exams I was in a bad place, I stopped caring altogether about everything really. I wouldn't go as far to say suicide crossed my mind or anything, but it was after a particularly daring 46kmph bike ride down a mountain that I got home and got a phone call from my grandmother who out of nowhere said, "I want to go to Hawaii, want to come with me?" Now I had no particular interest in going to the tourist capital of the world, but I thought why the hell not? A short while later I arrived in Vancouver and just before we left my grandmother gave me her new Minolta DiMAGE E223 and said, "You're the official picture taker." Within a short period of time I was wandering around her garden shooting away, capturing things I liked in all 2mp glory.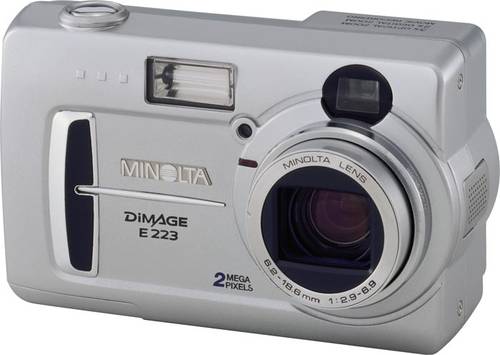 Source
It really didn't take very long for me to see this was something interesting to do, I mean it opened my eyes more to the things around me and trained me to spot things I enjoyed and appreciate them. That's truly the greatest thing about photography and is the only reason why photographers continually hunt out their next photograph, and for a kid going through a tough time this was the perfect retreat….
Now if you know me you know I'm not one for touristy crap, and Hawaii is built of that sort of thing, but my grandmother decided it was a good idea to take a tour bus around the island so we did. What came on that tour would change my life forever, much like a great photograph you weren't looking for this place captured my imagination permanently.

Nestled in the Valley of the temples on Oahu island is the Byodo-In Temple. Built in 1968 this small scale reproduction of the Byodo-In Temple in Uji, Japan, was built to commemorate Japanese immigrants in Hawaii. It is a popular tourist destination and is easily accessed by the public transit system or tour buses.
I've already got a pretty big love affair with the country of Japan so this place was just the right sort of setting for me to enjoy. It was all pretty standard affair for a Japanese Temple which is all stuff I've only ever seen in pictures before but none-the-less was all quite interesting. You could ring the great bell, feed the Koi fish, and you could provide an offering to the temple in front of a great Buddha statue. The gardens are well kept and everything is designed with great care to make you forget you're in Hawaii but rather standing in Japan.

I would highly recommend visiting this place on your own without a tour, not only will you get more than ten minutes to enjoy everything there, but you can usually avoid hoards of other tourists and spend less time photoshopping them out of your photographs *cough cough*…. So what does this all have to do with everything I mentioned previously? Well it was here that I took my first photograph that resonated deep inside me and said, "Hey, I like this, I want to do this more." Anyone can take a nice photo, but nobody can predict when or where a certain photo will capture them so strongly as to change them forever.
For me that was this photograph. It was such a random occurrence, something one could not simply plan on taking and for me the first time this has happened. How perfect of a scene, a small bird peacefully sleeping atop a Buddha statue in a setting that is quite zen, where the silence is only broken by the gong of a large bell in the distance. Despite it's lack of high megapixel resolution, perfect tonality or exact sharpness that comes with a complete amateur shooting an automatic camera this one photograph continues to be one of the images I am most proud of simply because I caught something rare and wonderful. Now cut to nine years later where I'm sitting on a bus still holding on to this same feeling I found all that time ago hoping for a miracle that somehow I will be able to photograph the same scene again, this time with more experience behind the camera.
Perhaps I let my wild fantasy go too far when I tried to capture lighting in a bottle for the second time, for when I arrived I was shattered when I quickly discovered that what had happened was gone and won't be again. I could spend years camped out in front of this statue and never ever get this moment back. I was truly sad, all hopes broken that I had built up to this point, but it was ok. I knew from previous years of experience it's best to move on and continue searching for your next photograph instead of lamenting on what could have been and then I just concentrated on just enjoying the moment we had there. Much like the bell breaking the silence after that I began to enjoy the ambiance of the whole area and felt a certain calm about everything and continued shooting with that new frame of mind. No more sadness only opportunity awaited.
So it goes without saying that a photographer should constantly strive to better themselves both in technique and internal thought because when that next perfect moment comes along you will never get another chance to capture it again. For me this trip back was a great interperspective experience to realize just how far I've gotten since then and how much I always look forward to the next great photograph.